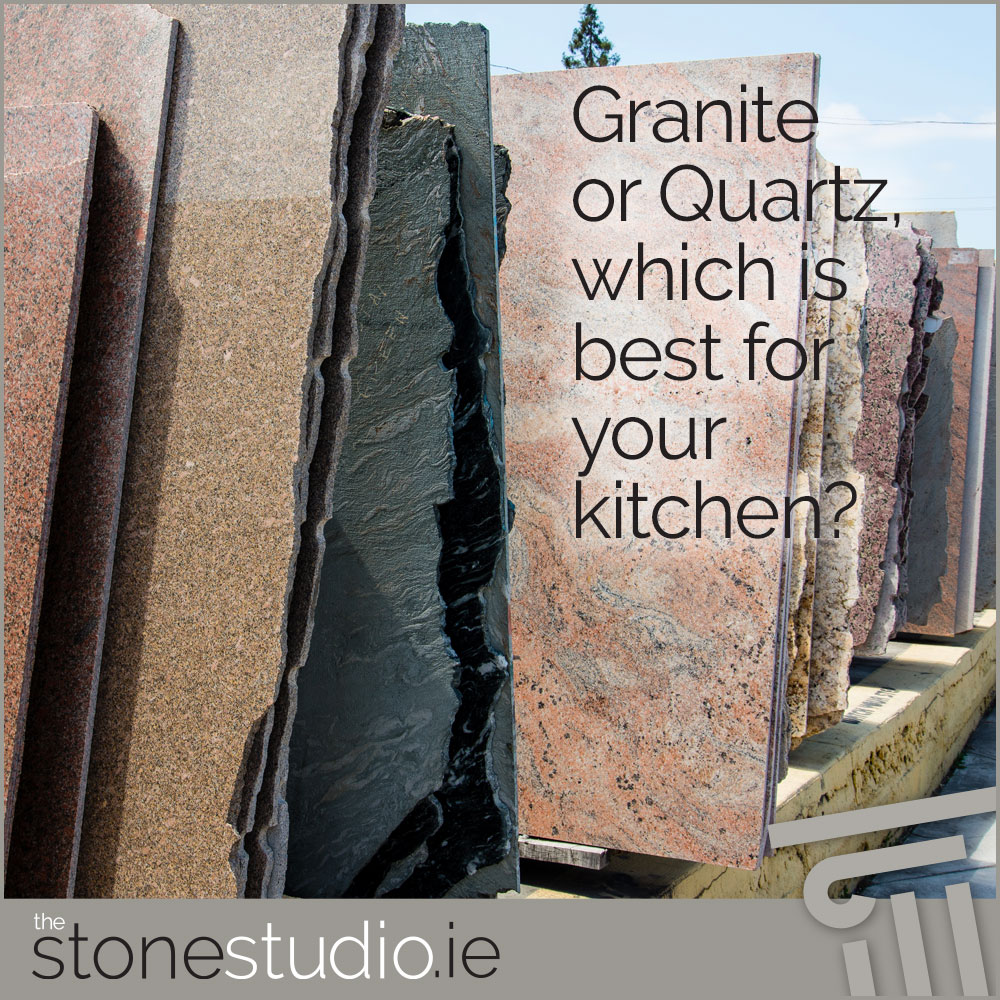 We give you a quick run down of the pros and cons of these two popular kitchen countertop materials so that you can make a decision fast!
Granite
Whilst granite was very popular for kitchens in the past, kitchen countertop trends are moving more towards quartz, and here's why:
Maintenance - Granite requires sealing on an annual basis to prevent damage from daily use in the kitchen.
Stains - With granite you have to be very careful that food spills are cleaned up quickly to avoid discolouration. Hard water stains near the sink can also be a problem.
Hygiene - Granite is a porous material that easily harbours bacteria and viruses.
Environment - Granite is not a sustainable option as it takes thousands of years to create in the natural environment.
Aesthetics - Granite only has a small range of colours and patterns.
Inconsistent appearance - granite is a natural stone, which means that colours and patterns are variable. You won't be able to match your counters completely, and you may well find unexpected colour/pattern variations or flaws when you receive your countertop.
Colour - Some granite is dyed, especially black granite. Over time, the colour may fade or get patchy.
Comfort - Granite can be cold to the touch in colder climates.
Heat stains - Whilst granite may have the edge over quartz on this point, it is not completely heat resistant. If you continuously put pans down in the same place or leave hot items on the counter for extended periods of time, you could weaken the sealant, create staining and cracking.
Quartz
Quartz has become a more popular option for kitchen worktops in recent years, for a number of very good reasons:
No maintenance - Quartz does not require sealants. You can easily wipe up spills and as long as you remember to use a trivet, you'll have no problems with staining.
Durable - Quartz is slightly harder than granite, but less likely to chip or crack.
Hygienic - Quartz is non-porous, so does not harbour microbes.
Eco friendly - As a man made material that is made from 95% recycled stone from the stone industry, this is a sustainable choice.
Elegance - Quartz offers a wider selection of colours and patterns, provides plenty of character and allows you to coordinate your countertop to your interior design.
Better than Natural Stone - Quartz has all the beauty of natural stone but with all the advantages of a manufactured product.
No Imperfections - This man made product is manufactured without imperfections so there'll be no surprises on delivery, and you can match your countertops to each other.
A Note on Cost
The price range of granite is more variable than quartz, and this reflects the variations in the product. Yes, you can find granite cheaper than quartz, but you'll compromise on aesthetics. The most attractive forms of granite command a much higher price because, as a natural stone, the limited availability of attractive forms drives the price up.
Quartz, on the other hand, offers attractive options even at the lower end of the price range.
Check out our amazing range of quartz colours and patterns here.
The Stone Studio is proud to present an elegant collection of stone products for all type of surface uses. Suitable for creating exquisite kitchen countertops and vanities natural flooring, indoor wall cladding, shower walls and many other everyday uses. Exclusively offering top brands including Santa Margherita (SMQuartz) and Cambria with an offering of hundreds different styles in all classic and contemporary designs and colours.